Websites in Sri Lanka
Websites in Sri Lanka more focus about its business-oriented factors. Simply whenever a business initiates, owners of that company wants to come up with a website because it's trending. Only a few percentage has realized what a website is and how it's going to pay back in return. Let's talk about some important reasons how you can improve your website performance.
First of all, you need to identify how many people use the internet currently in Sri Lanka. That potential reach should be your target. The majority in Sri Lanka does not know about this. I'll give you some actual numbers that use the internet on daily basis. If you are a Facebook user you might still don't know there are a 3.3 million users within the age range of 18-65. And when it comes to LinkedIn its 674,000 users. Comparing to past years take a brief look into this graph (figure 1.) you will realize how important it is to market yourself in the web near future.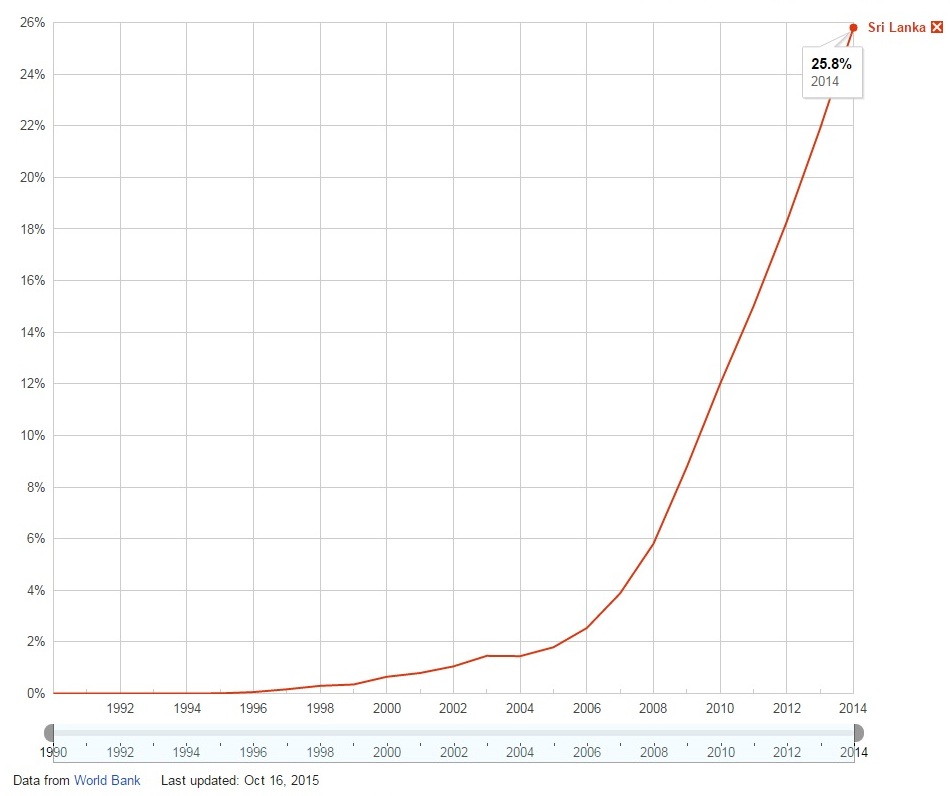 Figure 1 [Source : World Bank ]
Secondly your unawareness about marketing techniques on the internet. People in Sri Lanka go to work early in the morning and come home late night mostly. Even it's not slightly true, majority of daily travelers' focus on their electronic devices more often. So do you still think advertising on televisions, banners and newspapers could help to market yourself among them?
You are totally wrong. People nowadays trending with technology, social media and entertainment more often. Take your website among them to benefit. If you are selling items focus on e-commerce websites and if you are branding be more social to the users. Don't think that people will still follow those irritating wall hangouts and TV commercials.
Small business owners websites in Sri Lanka
Many small business owners in Sri Lanka don't think of having a website. As my point of view, it's a drawback they owe. Because the limitation that they can go for a large amount of audience is lacking due to that. Come up with a well-organized website which would accompany their needs and wants could have led them to global market even. All they have to do is have a proper website and a good marketing plan to be a success.
Let's generate profits from websites in Sri Lanka
When we come to the website industry in Sri Lanka, often problem I see is unawareness about the things that can come up with a website. Rather than spending money over unnecessary media campaigns, you can use simple adjustments to benefit out of your business. Let's talk about them step by step.
Social Media Marketing
For better conversions for your product and services, you can use a marketing strategy. In online marketing the best way to attract customers for your website is social media marketing. Advertising in social media is kind of an art. If you know how to do it properly, you would be able to save lots of money which you have spent over the other media. Create a simple advertisement by covering all its aspect as well as its design to post in social media. My previous articles will guide you how to select a targeted audience to present your product and services in front of them.
Search Engine Optimization (SEO)
One of the major concern you should think about. Many people in Sri Lanka still aware of this term. Mainly SEO concern about the visibility of a website or web page in a search engine's unpaid results. So there are several criteria to be satisfied to come up with a good SEO result. In simple words, it helps to find you easily in search engines (e.g.: -Google, Yahoo, Bing). So rather than building your website disorder and including irrelevant texts here and there just plan it before the build. Original content inclusion, as well as unique designs, will rank you on top of the result pages.
Web Design & Development
Basically Web development refers to a building, creating, and maintaining websites. If you just go through inactive websites it clearly shows how poor they are in design as well as in its performance. So maintaining is a must criteria in websites.
By covering theses aspects, you can simply build a good website. Use social media to market yourself. Try to hit the global market using less amount of money via it. Websites in Sri Lanka should be more active and profit generating source. Work on it, comments us below for more advice and tips.
Share this Article with your friends